TECHNOLOGIES
Targeted Boron Drugs
Next generation, high-performance boron drugs are of primary importance for effective BNCT
Approach
TAE Life Sciences is committed to developing a portfolio of novel targeted boron drugs to expand the application of BNCT to other cancer types and to provide even better outcomes for indications historically treated with Boronophenylalanine (BPA), a boron delivery drug.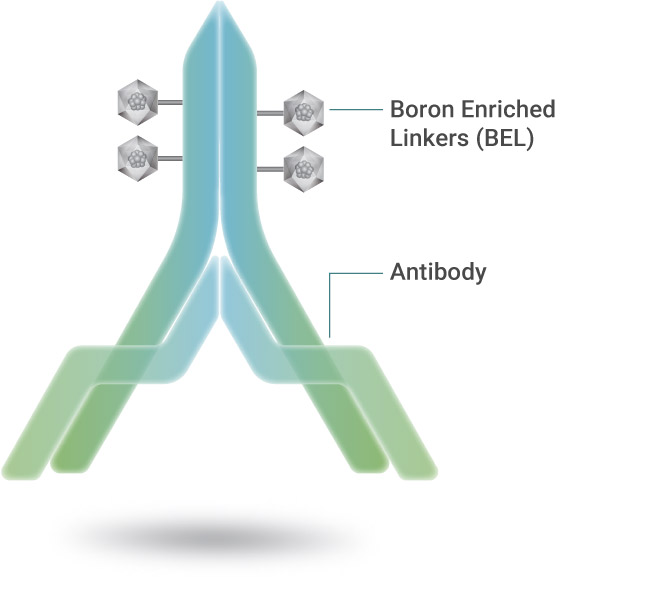 Our Diversified Drug Program
TLS is developing a number of different patented molecular designs and scalable synthetic routes. Initial results are showing superior boron delivery compared to existing boron carriers. Our diversified drug development approach includes:
Small Molecules
Small molecules may provide the best way to treat certain diseases. Because of their size, these compounds can cross the blood-brain barrier and engage targets that may contribute to brain cancers.
Small molecules, such as BPA, are effective boron carriers for BNCT. Our development of small molecule/amino acid boron carriers may improve delivery and enhanced retention of boron-10 while at the same time simplify manufacturing processes for a short path to clinical use.
Antibody Boron Conjugates (ABC™)
Leveraging ABC technology for more efficient penetration of boron in tumor cells
ABCs are comprised of antibodies and boron-containing payloads and have tremendous potential for BNCT. Unlike chemotherapy, ABCs are intended to target and kill tumor cells while sparing healthy tissue. Due to antibodies' large size, they have the capability of delivering high numbers of boron atoms to tumors that express the targets for these ABCs on the cancer cell's surface.
TAE Life Sciences is leveraging existing and new antibody technology for more efficient targeted boron delivery to tumor cells. We have developed unique boron enriched linkers (BEL™) that have the potential to deliver hundreds of boron atoms per antibody that generate high boron-to-antibody ratio (BAR™), with no effect on cellular uptake of the boron-10. Targeting with these ABCs may improve boron concentration and delivery while at the same time significantly expand the cancer indications treatable with BNCT.
Nanoparticles
Advances in Nanotechnology has led to the development of a variety of nanoparticle-based anticancer drugs. We are collaborating with Kyoto University to research unique biodegradable nanoparticles that represent a promising type of nano-carrier for boron delivery. They offer advantages over other inorganic nanoparticles in that they are completely biodegradable and thus more suited for clinical use. These nanoparticles can be easily synthesized, loaded with boron and studied in pre-clinical models.
Pipeline
Our drug pipeline includes lead product candidates for indications that have been historically treated with BPA including head and neck, glioblastomas, and melanoma cancers. We also have additional cancer indications in earlier-stages of development.