BORON NEUTRON CAPTURE THERAPY
A Transformative Cancer Treatment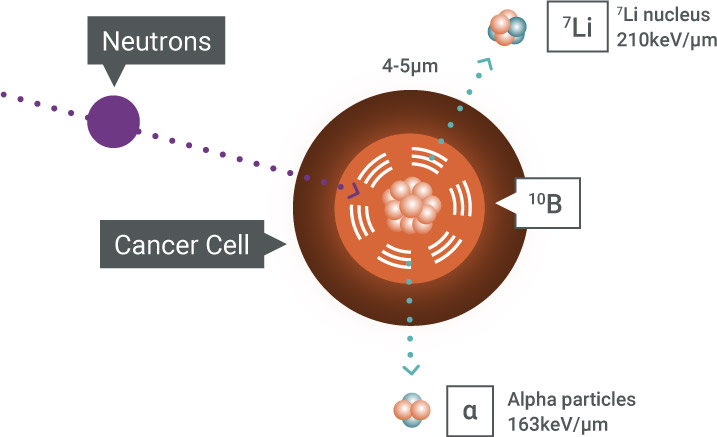 History of BNCT
Gordon Locher first proposed Boron Neutron Capture Therapy (BNCT) in 1936. Clinical investigation and treatments were first introduced in the USA in the 1950s and showed promising results.
Historically, BNCT clinical studies have been carried out using boronophenylalanine (BPA) and neutrons derived from the core of a nuclear reactor. While the clinical outcomes have been encouraging, the availability of better boron-10 compounds and access to a neutron source posed a significant barrier to clinical research and adoption of BNCT as a practical cancer therapy.
Despite this challenge, approximately 2,000 patients have been treated at research sites worldwide and have shown favorable clinical outcomes in patients with glioblastomas, head and neck, and other challenging cancers.
Now, a renaissance in BNCT is occurring with the availability of new accelerator-based neutrons sources and novel synthesis of boron-10 target drugs, allowing clinical research to expand with the goal to have BNCT available as a new treatment option for patients everywhere.
How BNCT Works
BNCT is a targeted, non-invasive combination cancer treatment
A patient is first infused with a non-toxic boron-10 compound, which selectively accumulates in tumor tissue
After the infusion, the tumor is irradiated with low energy neutrons
The reaction, inside the cells, emits charged particles
The charged particles destroy the cancer cell while limiting damage to surrounding healthy tissue without boron-10
A patient is first infused with a non-toxic boron-10 compound, which selectively accumulates in tumor tissue
After the infusion, the tumor is irradiated with low energy neutrons
The reaction, inside the cells, emits charged particles
The charged particles destroy the cancer cell while limiting damage to surrounding healthy tissue without boron-10
Benefits of BNCT
The secondary radiation reaction from BNCT, with cellular-level precision, spares more healthy tissues and can potentially treat cancers that otherwise have few treatment options.
Global research shows BNCT provides the following benefits:
Biophysical Precision
Effective in treating recurrent, multiple, and untreated cancers
Targets cancer at cellular level
Selectively destroys cancer cells
Eliminates the need for respiratory gating and internal markers
Efficient Treatment
One to two treatment sessions
Treats primary and undetected local microscopic cancer cells in parallel
Potential for more patient throughput than other radiation therapies
Better Patient Experience
Does not require high-level patient positioning, improving patient comfort and reducing staff workload
Potential to greatly reduce side effects and improve patient quality of life