COMPANY
We are TAE Life Sciences
TAE Life Sciences (TLS) is a biologically-targeted radiation therapy company focused on developing novel treatments to improve the lives of patients with invasive, recurrent and difficult to treat cancers.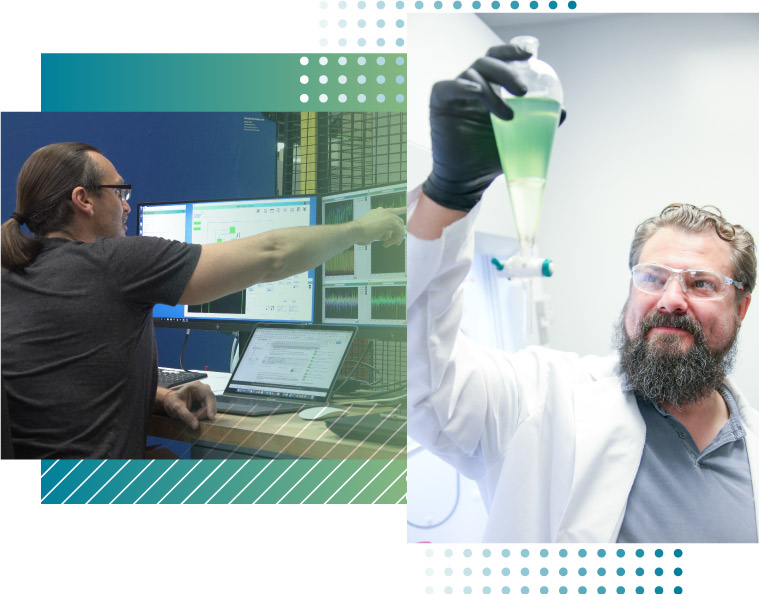 A Total Solution
Founded in 2017, TLS is the only company developing comprehensive target drugs and neutron technology product portfolio to enable next-generation boron neutron capture therapy (BNCT) as a first-line treatment for patients globally.
The company has made a significant investment in developing a portfolio of new Boron-10 target drugs, with the goal of expanding the application of BNCT to new cancer types and to provide even better outcomes for indications historically treated with Boronophenylalanine (BPA), the only target drug currently utilized in BNCT.
Careers
Join the team committed to revolutionizing cancer treatment. TAE Life Sciences is currently hiring for the following positions:
Job Summary: TAE Life Sciences (TAELS) is seeking a detail-oriented Logistics Manager experienced with
complex international shipping practices
About the company: TAE Life Sciences has developed breakthrough technology for the clinical investigation of Boron Neutron Capture Therapy (BNCT) to provide a treatment option for patients with malignancies that are difficult to treat through traditional methods. Our proprietary accelerator-based BNCT platform combines two well-known modalities - biological targeting and radiation therapy - for precision treatment at the cellular level.
Job Location: California, USA
Essential Duties and Responsibilities:
Work with shippers, freight forwarders, and third-party logistics agents to manage international shipping and receiving for complex medical equipment
Ensure that goods are shipped and received in the most timely and efficient manner
Prepare Export documents and ensure they comply with export regulations
Review Import documents and to ensure all required information is included for Customs clearance in the U.S.
Work with Customs Broker for import clearance
Communicate with warehouse personnel and packing company for international packing standards
Efficiently interact with customers and partners worldwide
Optimize costs and schedule
Assist in continuing updates and ongoing implementation of logistics strategy
Perform other duties and projects as needed
Required Qualifications:
Bachelor's Degree
Minimum of 5 years of experience in international shipping and receiving
Experience managing carnet
Understanding of export control laws: Schedule B numbers, EAR, ECCN, county
knowledge and Export License requirements
Knowledge of hazardous shipment requirements (DOT/ISTA, 49 CFR) preferred
Experience with Quality Systems standards
Customs broker license preferred
Medical device industry background preferred
Strong interpersonal and communications skills
High level of self-motivation, organization, self-discipline and autonomy
TLS is in search of a Procurement Specialist or Senior Procurement Specialist with expertise in quoting, sourcing, and procurement processes.
Essential Duties and Responsibilities:
General Procurement Tasks
Purchase goods, materials, components, and services.
Obtain quotations for products and services.
Negotiate terms with suppliers, such as price, quality of goods, deadlines, and expectations.
Prepare and place purchase orders in NetSuite.
Maintain purchasing files.
Work with AP to resolve invoice discrepancies, define payment terms, and set up new suppliers in NetSuite.
Coordinate and execute engineering-change-order (ECO) activities with suppliers, the quality team and the engineering team.
Comply with quality standards and regulation, including FDA 21 CFR 820 and ISO 13485.
Supplier Management
Work with current and prospective suppliers to build, maintain, and manage supplier relationships.
Negotiate cost-effective solutions with current and potential suppliers.
Contact suppliers to resolve price, quality, and delivery or invoice issues.
Ensure supplier compliance with corrective actions.
Inventory Control and Planning
Ensure that all materials are received in a timely manner.
Coordinate return of nonconforming materials to suppliers and contractors.
Manage component supply and inventory levels.
Job Requirements:
Experience in purchasing
Experience with Quality Systems standards is required.
Medical device industry background preferred.
NetSuite experience preferred.
High level of self-motivation, organization, self-discipline, and autonomy.
Able to work in a dynamic environment.
Detail oriented and works well with others.